The application process is completely Online for all undergraduate programmes. There are no paper application forms. There is one application form which is common for all undergraduate programmes.
The candidate has to register on the official website of Ambedkar University Delhi and then fill the application form. The candidate has to fill Personal details & Qualifying exam details, Upload the photograph and signature while filling the AMU application form.
Payment of AUD Application Fee: The Application Fee can be paid via one of the three modes:
Mode 1: By Cash: This payment option is available only during on-campus application from May 2 to June 20, 2016.

Candidates have to visit the AUD campus in Kashmere Gate. Get a receipt after making payment in cash of the requisite amount, depending on the number of courses. Enter cash receipt details in the online application form when required.

Mode 2: By Demand Draft: Candidates have to get the DD drawn in favour of 'Ambedkar University Delhi' payable at New Delhi. Thereafter they have to fill in the DD details in the online application form where required.
Mode 3: By Credit/Debit Card/Net Banking: Candidates have to fill in details of their credit/debit card or net banking particulars. Once payment is made successfully, candidates will be redirected to the online application form.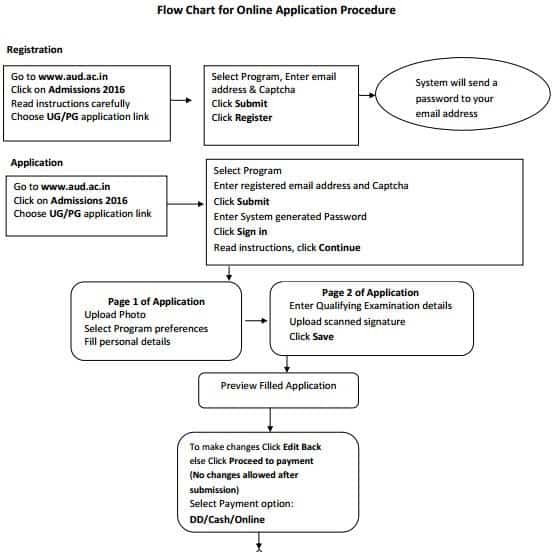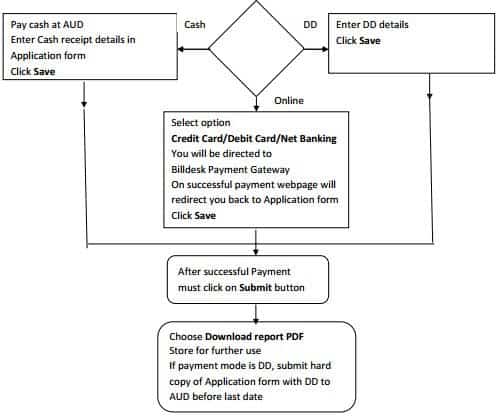 Things to be kept ready before filling Online Application Form
Photograph and Signature: Candidates have to upload scanned copies of their photo and their signature in JPG/JPEG format
of size less than 50 KB and pixels not exceeding 200 × 200.
Submission of Ambedkar University Application Form

If the Fee is paid via Demand Draft: After successful submission of the online application form, candidates have to take a print out of the application Form in a PDF Format. The same has to be deposited at the Kashmere Gate Campus of AUD or sent by post at the following address:
Dean, Student Services
Ambedkar University Delhi
Lothian Road, Kashmere Gate,
Delhi 110 006
If the Fee is paid via Cash or Online: If the payment has been made in Cash or online candidates are not required to send any document to the concerned office.