NSO Results 2017-18 for Stage 1 Exam that will be conducted on 9 & 23 November 2017 will be available on this page below. The students who will secure a good rank in NSO Stage 1 will get a reward as declared by SOF. The scores obtained by students can be checked online by entering the NSO Roll number.
The link to check the result and other important details related to NSO Results will be updated on this page. NSO Results for Stage 1 examination is declared almost six weeks after the conduct of the NSO exam.
Register Here for Free SMS Alert for 20th NSO Result
NSO Answer Keys 2018 - Check Answer Keys for SET A Here!
20th NSO Result Dates
| | |
| --- | --- |
| Event | Date |
| NSO Stage 1 Exam | 9 & 23 November 2017 |
| NSO Cut Offs | December 2017 |
| NSO Result | Last week of December 2017 |
| NSO Stage 2 Exam | Second week of February 2018 |
| NSO Result Stage 2 | Second week of March 2018 |

Get Complete Details on NSO
NSO Results - Check NSO Level 1 Result Here


The NSO Results 2017-18 for Stage 1 will be declared on the last week of December 2017. To Check NSO Level 1 Result, the candidates only require their Roll Number issued during Level 1 exam. NSO Level 1 exam will be conducted on 9 & 23 November 2017.
Register Here for Free SMS Alert for 20th NSO Result
National Science Olympiad (NSO) is conducted by Science Olympiad Foundation in various schools within India as well as abroad. The aim of the NSO exam is to spot and reward students who are good in Science.
NSO Results has the details of the marks obtained by the student in the exam. Based on the marks of NSO Level 1 examination, only eligible candidates were allowed to appear in Level 2 of NSO Examination.
How to Check NSO Results 2017-18?
To check NSO result, 2017-18 enter the details i.e. their school code, class number & roll number in the provided format: School code- Class Number-Roll Number. Example: AN0001-04-05
The NSO result can be downloaded from the website as no other method available to check the result, and no separate communication will be made regarding NSO result.
If required, the downloaded result will stand valid for any reference purpose.
NSO Result clearly shows the status whether the student has qualified for NSO level 2.
Qualifying criteria for NSO 2017-18 Level 1 exam
State-wise top 10 rank holders are class wise.
Classwise Top 5% of candidates who appear for the 1st level National Science Olympiad.
Class topper where at least ten students from a class appear in the exam & score 75% qualifying marks.
Each section is given separate weightage, and due weightage will be given to marks scored in different sections.
Click Here to Check 20th NSO Stage 1 Result
(Link will be activated in December 2017)
After NSO Result Stage 1
Every participating student will be provided with Student Performance Report (SPR) which is to be used as a tool to identify and work upon the weak areas of the candidate.
All the participating schools will also be provided with School performance report so that they can analyse and find out if any specific areas require particular attention.
NSO Cut Off Marks - Last Year


CLASS

TOTAL MARKS

M3 - (ACHIEVER SECTION)

M2 - (SCIENCE)

M1- (LOGICAL REASONING)

M4 -(MATHS
/BIO)

03

29

10

17

2

--

04

27

4

18

5

--

05

40

12

23

5

--

06

40

12

20

8

--

07

34

9

19

6

--

08

37

6

22

9

--

09

35

3

23

9

--

10

36

15

15

6

--

11

30

12

3

5

10

12

31

9

2

6

14

18th NSO Cut off Marks-Highlight's of Last Year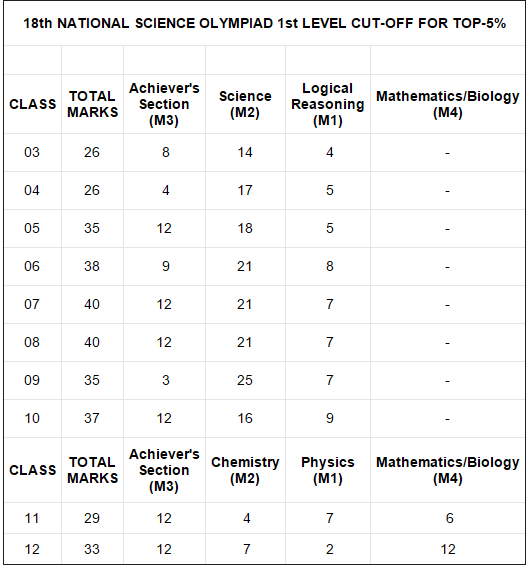 To enquire about NSO Results candidates can contact on the given contact number:
Telephone: 0124-4951200, 09312680855, 09312680857.
Email: info@sofworld.org