Inspire Scholarship Application Form 2016-17 has to be filled online by the candidates who are eligible for making application for the Inspire scholarship. Ministry of Science & Technology offers Inspire scholarship for the candidates who have cleared their class 12 examination in the last academic session (2016) and are presently enrolled in Bachelor level study in Natural & Basic Science. Candidates pursuing Master's program in Natural & basic science are also eligible to apply for the scholarship.
The online Inspire application form along with all required details is available on the official website of Department of Science and Technology. The Inspire Scholarship Registration has started on November 15, 2016.
Please make note of your Inspire Scholarship Application Reference No. /IVR No. for future reference and correspondence. Do not send any document by post for the scholarship and submitting more than one Inspire Scholarship Application Form may lead to rejection of the application form altogether.
Latest Update: Inspire Scholarship Registration Begins from November 15, 2016, and the last date to apply is January 15, 2017. Candidates can fill their online Registration form on this page.
The Inspire Application form cannot be filled from 9 a.m. to 1:30 p.m. from Monday to Friday and this is done to rationalise traffic on the website.
The application form has to be filled online and there are in all 6 sections in the application form which will be available after Inspire Scholarship Login process.
Personal Details
Enrollment Information at B.Sc/ Integrated M.Sc
Class 12 Information
National Level Competitive Information
Other Information
Contact Details
The student has the option to save the form while filling it and need not fill the Inspire Scholarship in one go. Once the application form is submitted, no changes can be made so be very careful while filling up the application form.
Inspire Scholarship Registration - Apply here


Students who fulfil the eligibility criteria for Inspire Scholarship 2016-17 can make an online application to present their candidature for the Inspire Scholarship.
There is no offline application process and candidates are required to upload their documents while filling the online application and no documents have to be sent by post.
Candidates can fill the Inspire Scholarship application form and upload their documents on Department of Science and Technology's Website.
Click here to register for Inspire Scholarship 2016
Candidates are required to use their own and active email id to initiate the Inspire Scholarship registration and application process as it will not be possible to change the email id once the application process has been initiated.
Check Eligibility for Inspire Scholarship
Documents uploaded with Inspire Scholarship Application Form 2016-17


| | | | |
| --- | --- | --- | --- |
| Documents | Mandatory/Optional | Format | Maximum Size |
| Passport size photograph | Mandatory | jpg | 50 KB |
| Community/Caste Certificate | Optional | pdf | 1 MB |
| Class 12 Marksheets | Mandatory | pdf | 1 MB |
| Class 10 certificate as proof of DOB | Mandatory | pdf | 1 MB |
| Rank or Award Certificates | As per eligibility criteria | pdf | 1 MB |
| Endorsement Form | Mandatory | pdf | 1 MB |
| Supporting Documents | Optional | pdf | 1 MB |
Application process for Inspire Scholarship


Registration: Candidates are required to register using their email and activate the same email id by clicking on the activation link emailed.
Starting the application process: To start the application process candidates are required to log in to their account and then click on 'Apply for Scholarship' present on the right side of the screen.
Filling Inspire Scholarship Application form: The application form has been divided into 6 parts and each form can be filled and saved individually. Once a section is complete,

it'll turn green in colour

to indicate that everything is finished related to this particular section.

Note: To Save the information of a particular section, the candidates need to Click on SAVE present on the upper right corner of that particular section.
Section 1-Personal Details: The candidates are required to enter detail related to the name of their parents, community to which they belong and physical status (Differently abled). Applicants are also required to upload their photograph and Class 10 mark sheet as a proof of date of birth.
Section 2- Enrollment Information: The candidates are required to upload their Endorsement Certificate in this section and are also required to update information related to the education program and the institute in which the candidate is enrolled.
If you are pursuing B.Sc. (Hons) or Int. M.Sc., please select only the major/honors subject.
If it is a B.Sc. (General) course, please select the entire three (or four) major subjects
In case your college name doesn't appear in Inspire Scholarship Application Form then you need to email to

inspire.prog-dst@nic.in

for its addition.
Section 3- Class 12 performance information: The details related to the marks obtained by candidates in class 12 examinations are to be entered in this section and eligibility note along with class 12 mark sheet is also to be uploaded.
Section 4- National Level Competitive Examination: This section is to be filled if the candidate making application qualifies for the scholarship on the basis of their result of listed competitive examinations.
Section 5- Other details: Candidates are required to enter the year in which they cleared their class 10 examination, an annual income of their parents and whether they have attended Inspire Science Camp or not.
Section 6- Contact information: The details related to the contact details such as postal address, mobile number etc. are to be provided in this section.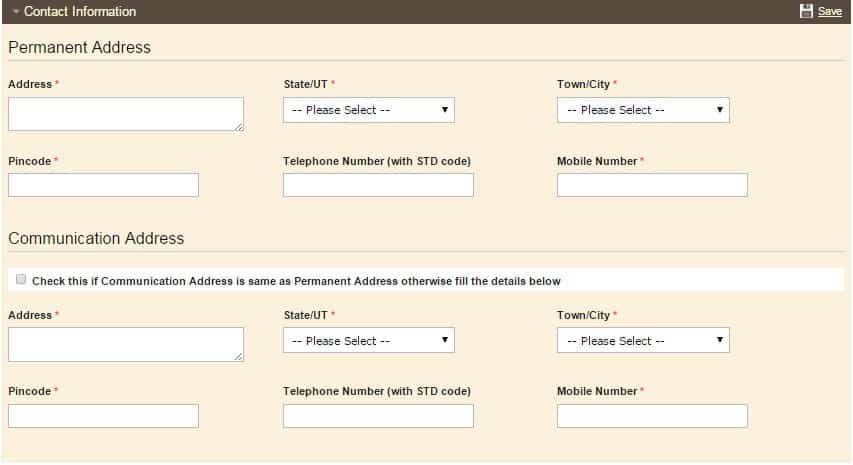 Inspire Scholarship Application Form Submission


To complete the submission of application form candidates are required to indicate whether they are availing any scholarship and enter the place, state/UT and verification code and click on submit to complete the submission of the application form.
Editing the Inspire Application Form


Editing the information: Candidates should ensure that all the information entered by them is correct as no changes can be made once the application form has been submitted.
Candidates can take the printout of the complete application form after completing the submission of the application form.
In case of any question about the Inspire Scholarship Application Form the candidates acan write in the comments section below.